4 Essential Things Startups Must Know Before Deciding On Logo Design!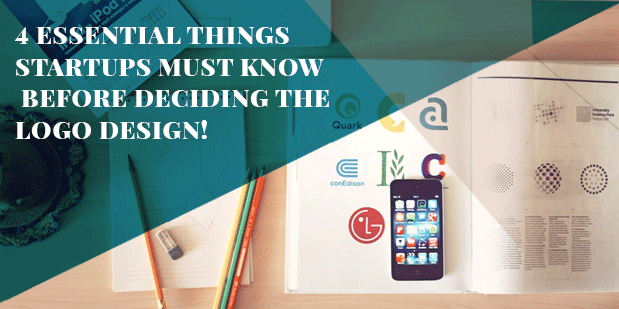 Know the top tips to design a logo for corporations. What to do before designing a logo for a business? Do I need a logo designer for my company logo design? Here are some of the experienced things that you must implement to have the best logo design for your company. All the tips added here will help you a lot and provide you with the best info to design a logo for your company. Read here to know all the things to have an effective logo design for your company.
Starting a new business is always exciting but nothing can be more challenging to create an own identity and set the business apart from the competitors. From deciding the perfect logo for your company to implementing the correct marketing technique, everything has to be in perfect sense. Whether you are looking to get the best computer logo for your online business or a letter-based logo, many things are needed to be considered. Let's explore how can you make your business stand out!
Tip #1. Determine the name of your business to have the best logo design
Before you plan to make a logo design for your new business, it is necessary to have a name for your business. The probability is also that you might not get the URL for the name you have chosen as your business name. But to legally register your firm, you need to decide on the name. Once you got the legal name, you could also modify it later. Analyze the type of your business and choose the name accordingly. For example, if you are starting a business in fashion or cosmetics, you need to select the best fashion & beauty logo design that makes a unique identity for your business.
Tip #2. Create a perfect business plan for the logo design
Just deciding the name of your business and choosing the logo won't do any wonder. It is important to have the proper business plan and mark your financial budget. Having an accurate business plan helps you to carry out the process accordingly and help in tracking the success status of your business.
Tip #3. Validate your idea by understanding your audience to design a logo
Your business can never be successful if you are not offering products or services that your audience truly wants and need. Once you have developed the plan, make sure you conduct proper research to determine whether your audience will buy your product or services or not. Ask your audience to leave feedback. This helps you in improving your services for the betterment.
#4. Build a professional website and mobile app
Gone were the days when people find out the service providers among yellow pages or directories. Now if they want to avail of any service, they simply click on their browser and search over the web. That's why it has now become essential to have a website or mobile app that allows your users to know how to contact you.
For instance, if you are starting an electronic business, make sure you choose the right theme for your website and include the best electric logo design which is not just simple to understand but also memorable.
Final Thoughts
This is just the beginning and a few of the long lists that you need to consider to make your new business or startup stand out. You are about to create a beautiful identity by choosing the right logo. But before finalizing that, make sure that you are moving in the right direction. Focus on creating customers and strive to offer them value.
Hire a logo designer that meets your business needs. Designing a logo is creative work that needs patience. You need to have creativity and experience in logo design for your company. So that you can tell your business customers a story through your company logo design. Moreover, logo designing will help your company to communicate with your business target audience. Your company logo will be your company's visual identity so make it unique.
VerveBranding can be your one-stop solution for branding and designing because we have decades of market experience and a team of experts who, over the years, have worked on many major and minor projects for all types of industries. We provide designing and branding services at the most affordable price. For services related to mobile app development or web development and online marketing services, check out our subsidiaries, VerveLogic and VerveOnlineMarketing. Connect with us right now to have the best services in logo design and branding for your business.
What are the things that you took into consideration when you set up your new business? Do let us know in our comment section below!
(Visited 113 times, 1 visits today)