How to Create a Brand Style Guide in 2023?
What is a brand style guide? Should you hire a brand manager? How will a brand style guide help you? Is it mandatory to have a brand style guide? These are some of the common questions businesses are asking. You may be one of them that needs these questions answered. In this blog, we have discussed the brand style guide for every business. The brand style guide will help you understand its importance for your business. Read here to know all about the brand style guide.
Consistency is the key to branding. Owning numerous departments, agencies, and partners for the creation of your brand content can be difficult to manage. Communicating your brand requirements can also be a little difficult. But all this can be solved with the help of a brand style guide. A brand guideline speaks out the mission, vision, and values of your brand. In this article, let's discuss how a Brand Style Guide is created from the basics.
Source: Dribbble
What Is a Brand Style Guide?
The rulebook explaining the representation of an organization with the help of its font and color selections, photography, logo, and other elements is known as a brand style guide. This helps brands to be consistent throughout. According to reboot online, just by using the signature color, brand recognition is hit by 80%. While, as per the stats for designing, 77% of the customers believe that the true brand identity is very crucial for accelerating the business.
Some people call a brand style guide a brand bible. Different people work on building your brand, a brand style guide delivers a similar experience throughout the processes.
In 2023, Branding is something that aesthetically helps businesses and marketers understand the company from scratch to end. This leverages the brand identity in a positive way for the customers.
Be it a person working on customer service, design, marketing, and sales your brand will portray a similar message throughout. Not just internally a brand style guide also helps you manage outsourced tasks.
Why Are Brand Guidelines Important?
Mission, core values, elevator pitch, personality, tone, and other elements are reflected in a brand style guide. It is important to appropriately use the brand assets like logo, spacing, color palette, typeface, and background.
Why Brand Guidelines are important in many ways? It creates a way of how people perceive your brand and works as a way of communicating with your target audience. Here are some of the reasons to showcase the importance of a brand style guide.
1. Consistency
Whenever a user visits your website everything they perceive creates a set of values for your company in their minds. This can be conscious but mostly subconscious. Having a set of rules and restrictions will allow you to communicate a similar message throughout the channels and create a brand identity.
2. Maintaining Standards
Brand guidelines specify the rules and regulations on using the brand's visual elements to create a standard. From the correct usage of the logo to spacing around it and the hierarchy of color and typography, everything is included in the rules.
Any new employee that joins you will be able to understand the brand inside out with the use of this tool. Brand guidelines of Twitter clearly specify where people can use their logo.
3. Be Recognizable
Making your brand recognizable may need some amount of time but you can surely distinguish your brand with the use of a brand style guide. You can check out the Brand Guidelines of Google and understand this tool better.
How do the crucial Key Components of a Brand leverage its identity? 
People usually have a misconception of thinking that the brand is about the name of the company and its logo. Several other components together build your brand as a whole. A lot of thought goes. Let's Learn about four main brand components that need to be addressed to build a strong brand.
1. Brand Identity
Brand Identity defines how you wish your brand to be perceived by other people. What people think of your brand and what you want it to be must be in line. If you wish to create brand awareness, you would need a strong brand identity. To establish a brand identity you would require:
a. Mission: A mission statement specifies the reason for your establishment. You specify the goals of your company in a mission statement.
b. Brand's visual identity: What comes to mind when you see a Swoosh on the board? Nike. The logo design can instantly make people recognize your brand. The color combinations also need to be taken care of as different colors make us feel differently.
To learn more about brand identity, you can read our blog, What is brand identity? And how to design and develop a great one.
2. Brand Image
Somewhat similar to brand identity, a brand image is how your brand is actually perceived and not how you want it to be perceived (brand identity). Think about Porsche. Whenever you hear Porsche you just imagine a luxury vehicle brand. There are various ways to maintain a positive brand image, some of them include:
a. Spreading a message via PR
b. Establishing a social presence
c. Creating high-quality content
3. Brand Culture
The core values of a company are defined in brand culture. Some values like 'reliability' and 'honesty' are often emphasized by companies. Holding onto the values of your brand will help you reach greater heights. Let's take the example of Starbucks, an American multinational chain of coffeehouses and roastery. Two of their brand values are "Creating a culture of warmth and belonging, where everyone is welcome" and "Being present, connecting with transparency, dignity, and respect". You can establish a brand culture by:
a. Defining the values of your brand,
b. Spreading awareness of these values, and
c. Ensuring that these values are reflected.
4. Brand Personality
The human characteristics of your brand are reflected by the brand personality. If you want to connect with your audience emotionally, building a brand personality is important. To create a successful brand personality, something that people can relate to, you can:
a. Learn more about your target audience,
b. Create an engagement with your audience and
c. Keep your tone consistent.
5. Brand Potential Audiences
Finding your target market initiative is the key for the business to evaluate its business values. Exemplifying the brand's potential audiences is the prime asset for every business organization.
a. what would be the ideal customers looking for?
b. what is my brand identity to custom the audiences?
c. which products and services are perfect for my customers?
These are the key components based on which you can identify the marketplace and its completion and key to take the decisions.
How to create your own personalised Brand Style guide?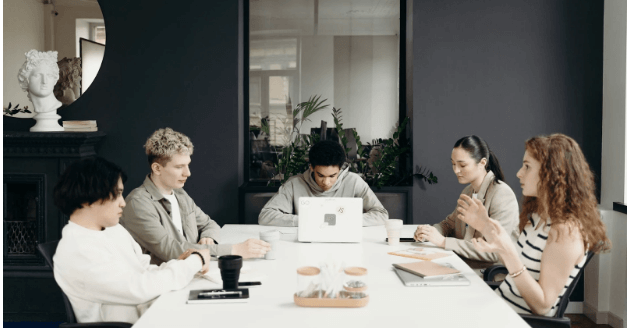 Many companies have rebranded themselves in the past few years after delivering some time and effort. How to create a brand style guide of your own? Let's learn with the points ahead:
1. Collect Inspiration For The Brand Guide
Creating a memorable brand sometimes does not require as much as we anticipate. Take the example of Skype, one of the famous video chat platforms. Microsoft, now the owner of Skype, keeps a focus on logo placement and product phrasing. While creating inspiration for your brand, you can think about:
-> Things that have worked for your brand in the past; ad campaigns, posters, emails, etc.
-> What are your competitors doing to reach there?
-> Which feedback do you get on a regular basis? Are you giving these questions to your designers and writers?
Getting answers to these points will help you create a look for your brand that people feel better and connect with.
2. Define the brand guide elements
Now you can start working on gathering inspiration with the help of your designers. You can shortlist the designers based on your comfort and requirements. Many designers are able to deliver something unique to your brand style, something that might have not crossed your mind.
Every brand style guide comprises 6 essential elements: brand story, logo guidelines, brand color palette, typography and font guidelines, image guidelines, and brand voice. These elements are of utmost importance that you must work on with your brand style guide designer. The designers can make the elements of your brand come to life. Let's discuss these six elements in detail.
i. Start with an inspirational brand story
A brand story is a compilation of definitions and descriptions of things that the brand cares about. You would be able to communicate the values of your brand to the public with this. A brand story comprises the mission, vision, and core values of a company.
ii. Logo guidelines
Source: Logaster
The logo design and its color matters a lot. With our logo design we must be able to deliver similar experiences throughout different environments it has to be used. You can also get a logo from a professional Logo Design Company for the best results.
In this section of your brand style guide, ensuring that the logo is used correctly is the ultimate aim. Altering, realigning, condensing, and stretching the logo must be avoided at all times. This mistake can send a wrong message to the audience. We have a list of 9 Powerful Tips for Effective Logo Design that you can go through for a better understanding. Here are some of the properties of the logo that you must take care of:
-> Size: Write about the proportions and minimum size that your logo can be used in.
-> Space: Write instructions about the clear spaces required around the logo.
-> Colours: Inform people about the various colors that your logo can be used in and when to use them. You can also view our Top 101 Creative Logo Ideas That Every Designer Must See.
-> Not Allowed List: Create a list of alterations that are not allowed to be worked with on your logo design. And list where you don't want your logo to be used.
iii. Brand color palette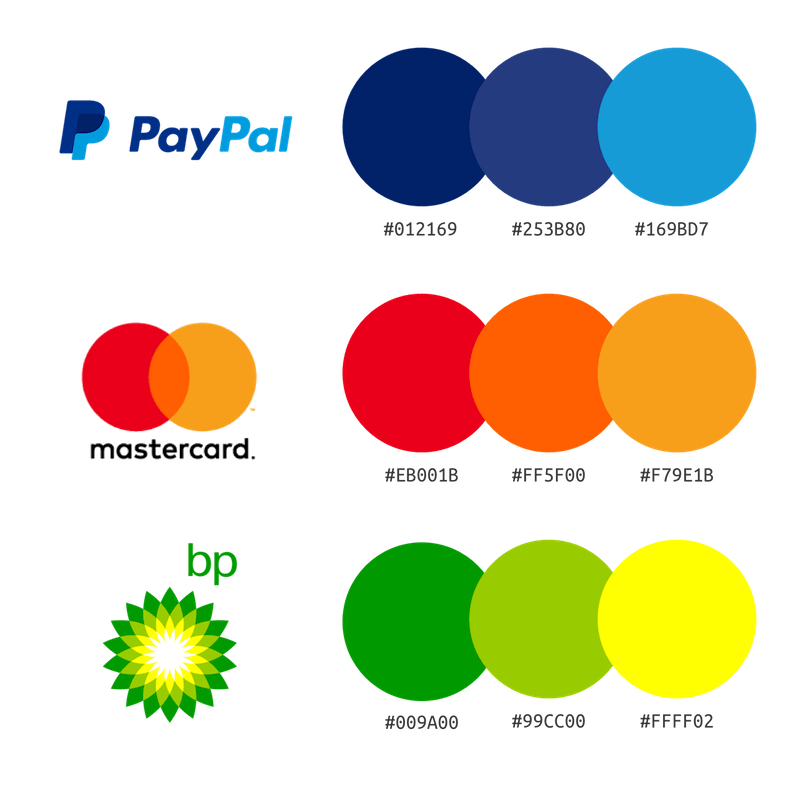 Source: Venngage
To make your brand look consistent, colors must be defined in your brand style guide. Most of the brands choose to keep four or fewer colors. For the background, you can choose a litter color, for the text a darker and neutral one, and one that stands out.
You can write about the information related to the colors like their Hex values or RGB. This way the designers would be able to accurately reproduce the colors and deliver a message of the brand with efficacy. To learn more about the colors, read our blog, The Fundamentals of Understanding Color Theory.
iv. Typography and Font Guidelines
Selection of the font is also essential as it creates an identity for your brand. You can make use of multiple fonts for your brand if you feel one is not enough to justify the message you wish to send out as a brand. To stand out from the crowd, you can use a different font than your logo. You can check our blog out to read in detail, What Is Typography? Why Is It Important For Graphic Designers?
However simple our typography is, we must define its dynamics of it. Specify how your fonts need to be used clearly. Give an introduction to your typeface and how it is perfect for your brand. Let people know how this typeface must be aligned; left, right, or center. Tracking and kerning ratios must be included for maintaining consistency throughout font sizes and styles.
v. Image Guidelines
A guideline for imagery must be created in your brand style guide. Photos, infographics, illustrations, charts, and everything you feel is right must be included in this document. The color, content, and style you choose for your imagery create a perception of your brand in the minds of people.
vi. Find Your Brand Voice
Source: Pinterest
Brand voice beholds an ultimate power and it must be consistent throughout the messages. Look out for a brand voice that connects with your audience and perfectly suits your brand personality.
Just as we communicate with our friends and family members, there is a way we would communicate with our customers. This part of the brand style guide informs your team of the way you wish to create an emotional connection with your audiences.
3. Create a List of Brand collaterals You Must Include
Source: Giphy
Some brands can choose to go deeper rather than just include the above elements in their brand style guide. Ask yourselves questions like:
-> What is The Primary Mode of Operation of Your Brand? If your brand works digitally primarily, create layouts for your website.
-> How Do You Sell Your Products? If you sell out some physical products, you need to maintain the packaging. You must know where and when the brand name and the product name will go on the packaging.
-> Are You Aiming for Social Media Marketing? Social media marketing expects a lot of images from your side. Include the types of images that can be used on social media in your brand style guide.
List all the additional elements that you need to meet the requirements of your brand.
4. Create the Brand Style Guide Outline
Your brand guideline is the summarization of your brand strategy. You can include many elements in your brand style guide. Here are some of the pointers you can take care of. Include these points only if they are relevant to your blog.
=> Brand Identity
– Mission
– Unique value proposition
– Brand's visual identity
– Brand recognition
=> Brand Image
– Message spreading via PR
– Social Media Presence
– High-quality content
=> Brand Culture
– Brand values
– Spreading brand value awareness
– Reflect your values
=> Brand Personality
– Get to know your target audience
– Engage with your potential customers
– Keep a consistent tone
Make these easily available to the people who are working for your brand identity. Document everything and make it available to the people in various channels like online, digital PDF, and offline. State all the points clearly specifying all the specs you would need.
5. Plan For Your Brand's Evolution
Source: 1000 Logos
A brand Style Guide is very important for a brand to set up its set of rules and regulations. This tangible item has the ability to send a consistent message throughout the designs you create. It is a powerful tool that needs to be used correctly and whose foundation should be set in a proper way.
We suggest you visit your brand guidelines periodically. Keep all your newest ideas in place. And then find time to revisit your brand style guide to refresh it with new ideas. You can plan your revisit after the final brand style guide is created. The revisit can be calendared monthly, quarterly or yearly. For better understanding, you can take an example from The Evolution of Star Wars Logo.
Create Your Own Brand Style Guide for 2023: In a Nutshell
A brand style guide is an amazing tool that helps you get your message delivered consistently. This guide allows creators across different streams, writers, logo designers, and similar, to convey the set of values and missions a company has. The brand style guide is a realization that your company is not only about the products and services you sell but more.
Depending on your requirements the brand style guide can have just one page or maybe as thick as a novel. It is high time for brands to upscale their ideologies and ties them up with effective branding practices. Only perfect branding helps you achieve your target in a productive time. 2023, is the year when companies or freelancers understand the fact that good branding practices help the business propel them to the next level.
So, when are you planning to create your brand style guide?
Get Your Own Logo Design

Conclusion
The brand style guide makes your work organized and builds an effective image in the market. The time you start using colors, fonts, images, and graphics according to your brand style guide this becomes your company image. People start recognizing you with the style you use for your company. However, being a professional business you have to have a brand style guide.
VerveBranding is a logo design company that can help you get your own logo. We have professional logo designers that can help you spread the message of your company efficiently. We create trending logo designs that appeal to the eyes of your customers.
After creating the brand style guide, are you looking for revamping your business card, we have to blog to help you out, How to Design a Business Card – The Ultimate Guide.
VerveBranding can be your one-stop solution for branding and designing because we have decades of market experience and a team of experts who, over the years, have worked on many major and minor projects for all types of industries. We provide designing and branding services at the most affordable price. For services related to mobile app development or web development and online marketing services, check out our subsidiaries, VerveLogic and VerveOnlineMarketing.
(Visited 588 times, 1 visits today)