6 Best Logo Design Apps To Make Your Brand Presence Right From Your Smartphone
Creating a logo design for your business is really important after all it represents the face of your brand. There are many options which are available in the market for getting a good logo but the problem is, it can be expensive too. You have to invest a good amount in your Logo designing to get a really unique and good brand identity. You cannot just open Photoshop to try your hand and if you come up with a design that is good to satisfy yourself or your family, you use it as your brand logo. No, this cannot be your way for sure. Although, seeking a good branding company in 2019 might also be an expensive walk for you.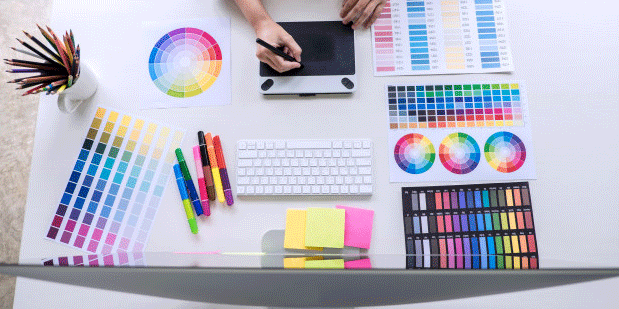 For designing a logo, there are several options which can be considered. Ranking from the most expensive to the most affordable one, let us discuss what options can be taken:
a. Working with a design agency: Professional logo design agencies are one of the best options to look for when deciding about creating a logo. These agencies deliver high quality result but can be a costly affair as well. These agencies may prove to out of range for at least startups.
b. Working with design freelancer: There are many design websites that have many competent freelancers to help you out with your logo design process. The result obtained from these freelancers can vary depending upon the designers skills and expertise. The prices charged by these designer may vary depending upon the work but it would generally be in three digits.
c. Using an online logo maker: The most cost effective option is creating a logo is in web or mobile application. The design options or the idea of customization may be limited, therefore your results cannot be well differentiated. But in case you choose right app for making your logo, your design can be very unique. The design coming from these apps are really affordable even with low budget.
Which way do you consider as cheapest and convenient for yourself?
Let us choose:
Getting a logo design created from the agencies can be really expensive. In case you have low or no money for designing a professional logo, logo apps can be a great help. See how these applications have revolutionized the world of designing through which you can yourself design a good logo if you can conceptualization. Some application also bestow you with the help of experts so that if you are missing on anything, they can make up for the same.
What is a logo design app?
A logo design mobile app are programs that allow you to design a logo directly on your mobile or tablet device. These apps are similar to web logo maker but they don't function on a desktop.
The process of logo making includes:
1. The first important thing is picking the right icon or template among the options
2. You can prefer to customize the colour, fonts, backgrounds and other element
3. The last and final is downloading the result as a picture on your phone . different apps have different modes of option to download, file formats and resolution.
Now, the bigger and important question is why to choose apps instead of desktop versions?
Logo apps advantage:
A. On the go convenience: The first and foremost advantage of apps are they can be used anytime and anywhere. They may look superfluous at the first stance but it does create a huge difference when considered from an entrepreneurs point of view. Since their life's are most of the time in an ongoing basis, therefore using apps be much easier to come up with iterations of a logo on their phone itself in contrast of sitting in a desktop and working.
B. Easy and user friendly interface: The professional from landing page designing services consider mobile apps to be highly users friendly than any other counterparts. The landing pages of mobiles apps are designed keeping in mind the need of the users as these apps can also be used on the go for any desired action. The apps are generally designed in a very organized manner, moving from one step of creation to the other. Customers can easily use their fingers to resize, rotate or moving things around which is a fun activity in itself.
C. Modern design:  The quality of style and design obtained from mobile apps are really incredible. The design and the quality ranges with different apps. In general mobile apps provide more offers in modern design than any web based logo makers.
D. Incredibly useful for B2C or event based logos: Mobile app logos are a good match for business to consumer brands as the designs are much fun, fresh in contrast to more traditional options available. The logo design apps offer many options for temporary, event based logo such as any campaign, wedding or pop ups etc.
How To Decide Which Logo App Is The Best?
A. Easy to use: Nothing can replace the usability quotient. Analyse your app based on use friendliness and how quick it can create a logo from easy to complex.
B. Customizability: analyse and measure how much the logo can be customized such as colour, layout, size etc from low to high.
C. Cost: This is the most important factor, measure the cost to download the logo you have created on the app right from the free version to the paid one.
D. End result: Measure the end result that you obtained in the form of logo. You can rate your logo that you made on the app from 1 star to 4 star.
Some of the best logo design apps available:
1. Logo Maker Shop by limepresso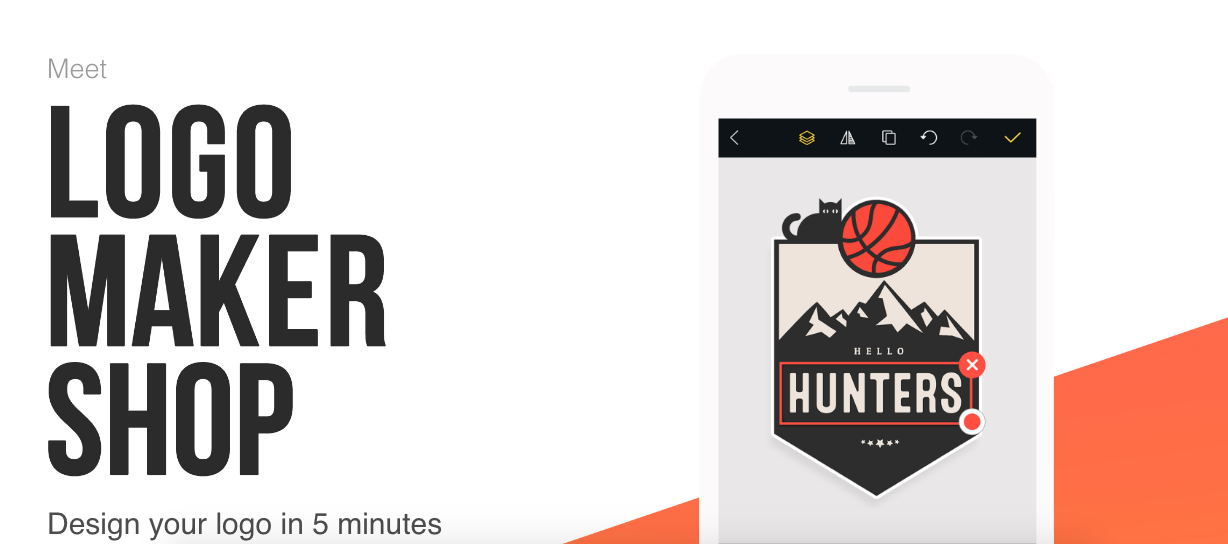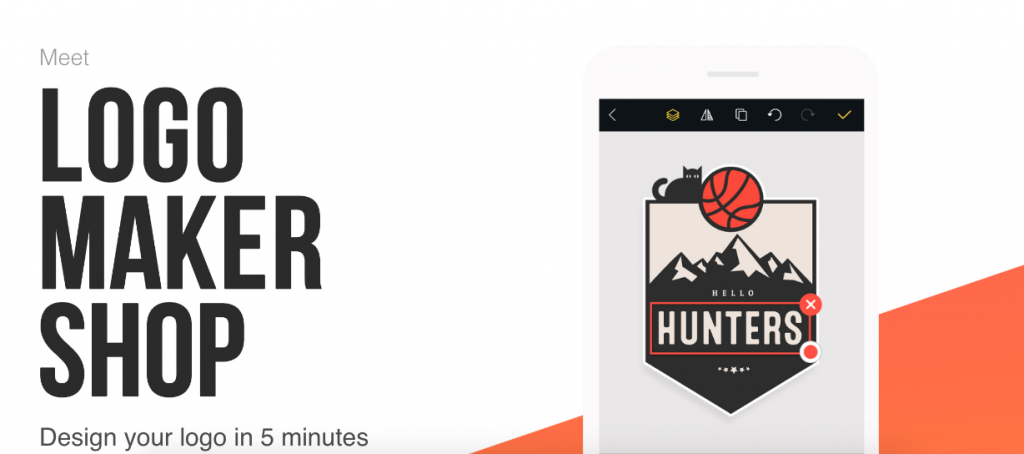 This app offers 1000+ logo templates to begin with designing process. Once you have choose your favourite app, you can also customize your text by 200+ fonts and you can choose to add different symbols and backgrounds to personalize the template for your brand.
The quality of logo designed are really modern and well designed even the free ones. There are many options in woodmark style or have simple icons. Some of the templates are free but templates are marked as " pro" can be accessed by paying $10. The app is easy to use, cost effective and highly useful for bold and modern brands.
2. Makr by Happy Media

You can begin with choosing templates categorized under business, weddings, monograms, campus, charity etc. You can also choose to begin with blank canvas and upload your pictures and shapes. You can then go ahead with customizing the templates by changing icons, text, colour, styling etc. After all the process is over you can download the PNG file.
The design offered by Makr are really certainly modern. Your logo may not be much differentiated as the icons are basic but in terms of font and shapes they are well balanced. Therefore, this app is ideal for retail businesses. The cost for designing the logo is free and once you created a logo, you can pay $6.99 per logo to download.
3. Logo Maker– Logo Creator by Chue Dave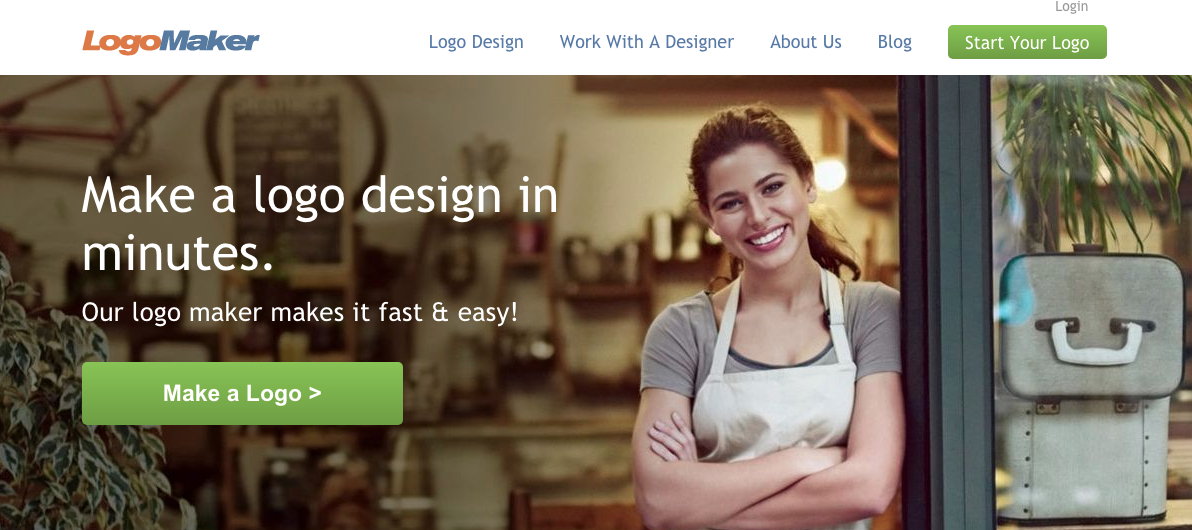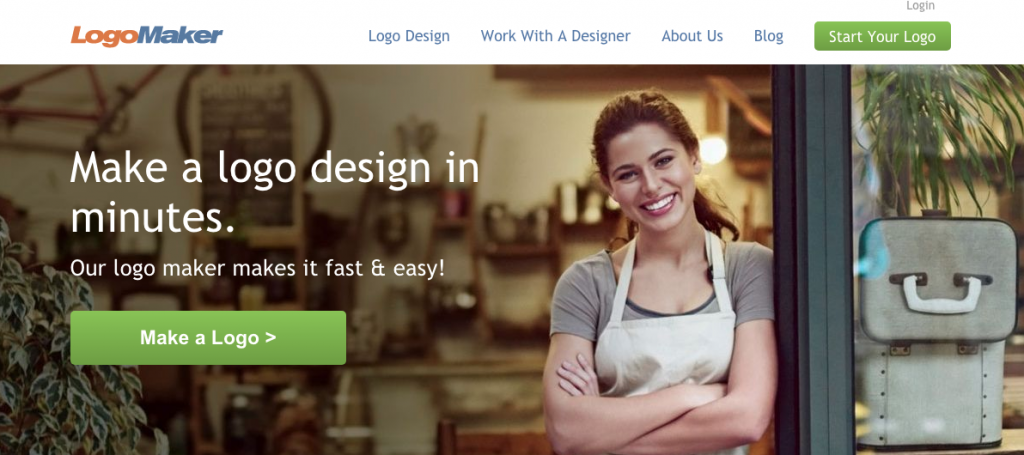 The templates offered are many, some of them accessible and many other are free app. Thereafter you can edit your icon on the canvas display that allows to adjust fonts, colours, and also add stickers
The quality of free app is limited but the options can be immense when paid option is used. Paid option is loaded backgrounds, icons, overlays to create a version of your logo. The editor for the app is easy and fun. The cost for the free app is a limited range or pay $4 to unlock all logos. It is best suited for casual brands and highly customizable.
4. Watercolour Logo Maker by Tap Flat Apps
The first thing is choosing watercolour style shape that can help in constitute the background for your logo. Then you can move ahead with editor, you can adjust colour, fonts, add text and make further customization. As the name of the app suggest it offers watercolour style logos. This app is a perfect choice for running B2B company.
5. ICONA– logo designer by RoadRocks
The press creator to see the icona canvas with three options in the footer which is shapes, text, and drawing. You can click on shapes and types to get as many options for icons that you can scroll through for a quite a bit. You can also adjust the icon by colour, stroke and opacity. The drawing icon available in app helps to draw the icon of your own shapes which is helpful in using the app to brainstorm possible logos and then design them professionally.
Many icons and great fonts are available. This app is a good place to begin with brainstorming process of logo.
6. DesignMantic-Logo Maker by Right Solution

This app's functioning is quite similar to desktop version of apps. In this app you can enter your company name and slogan(optional). Then the app will work automatically to generate a variety of logo design for you. You can find a lot of combination but in order to get more specific result, you can select the industry from the drop down menu.. Once  you find a suitable template, you can adjust by customizing fonts, colour and other stuff. The app offers thousands of icon to choose but the icon is on a cartoonish side and less modern, however, the design variety is huge. The app is free to download but you can pay $37 to download your logo.
7. Canva: Card/Poster/Logo Maker
Back in 2007, Melanie Perkins- one of the three founders of Canva- used to train students in high-end design software like InDesign and Photoshop. As many of you would agree, and the same was the conclusion of the students, these programs were " […] hard to learn and even harder to use". But as they say, great minds see an opportunity where others see a drawback or a challenge. Soon Melanie, along with Cliff Obrecht and Cameron Adams, started on a journey that would change how people think and design graphics on computers.
Canva is an amazing drag-and-drop online graphic designing tool that offers hundreds and millions of stock photographs, vectors images, free icons, shapes, font styles, and photo filters. You could use all these amazing features to design business logos, posters, brochures, invitations, wallpapers, business cards, certificates, or anything that your creative mind could think of. All you need before starting with Canva is a Facebook or Google account and the know-how of handling the computer mouse, or a smartphone with smooth touch. Design templates are also offered on this platform that you may use if you are in a hurry. If not, you can build your designs from scratch too. The platform is available for free-to-use and could be upgraded to "Pro"  version to avail other exciting and premium features.
Conclusion- Is logo design app is appropriate for you?
Logo design apps can prove to be a bliss for entrepreneurs in the beginning their business or if you want a quick logo design for any urgent purpose like for an event, fare, dance competition etc. These can save a lot of your time and money that might invest a lot while dealing with any designing company. Here, we are not diminishing the efficiency of the brick and mortar designing houses but yes, if you are budget and time restricted then there can be nothing better than using mobile application.
While apps are somewhere limited in style and differentiation but they are too convenient, fast and cheap to produce logo design. These apps are saviour especially if you run a consumer business and the brand is young and modern, mobile app logo can be solid thing for your business. Marketers should go ahead with playing inside these app and get a unique and enticing logo design.
Do not forget to mention the applications in comment box that you find really impressive.
(Visited 137 times, 1 visits today)