Top 7 Book Cover Design Trend To Implement In The Year 2022
Somebody said, don't judge the book by its cover! But, how many of us don't do that?
Surely the percentage is less! A good book cover should be trendy but in subtle ways. There are hundreds of books that launch every day. Moving through book shelves, only an attractive book cover stops the eyeball and compel the person to take it out from there.
A great book cover should push the envelope in a subtle way. But, what should be the trend in book cover design for the year 2022?
Let us dive into sea the of expectations and trend to look in 2022 for book cover designing:
Bold typography is still a big hit
Going by the words of expert designers from book design services from various corners of the world, loud and attention grabbing typography will remain very much in trend. These are covers where most of the portion of the cover is covered by text. The capitalized formats literally screams at you and are not at all a subtle way to draw attention entirely to the title.
In this competitive landscape, everyone is using bold typography. In order to stand different from them use creativity with unclean typography, printed fonts and various other elements.
Less is more: Minimalistic design is more attractive
A new pattern is visible where in a very minimum amount of design is used in the book cover which depicts the book in subtle yet in a loud way. Such cover designs are not bursting with loud colour or letter but are centralized on certain theme and give it a adequate space to give meaning and shine. Books like in the eye of grace and many other such covers, speak loud about the book without making big fonts with bright colours.
Hand drawn covers are trending
Designers from Creative magazine design companies believe that hand drawn letters has not  left its charm. It is still trending and gives a very cool and edgy look to your book and magazine covers. Hand drawn fonts and graphics provide a highly customized look for those who believe in  a DIY focused style or a casual look.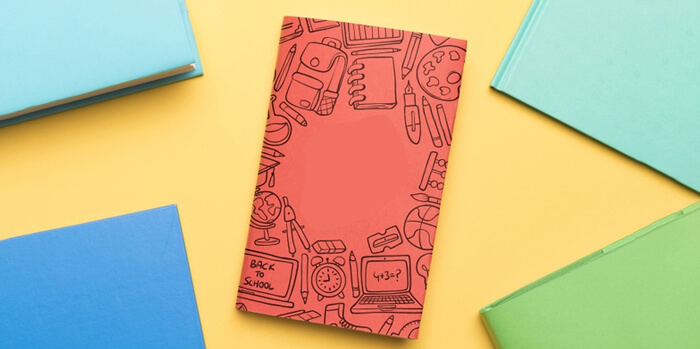 The style from 70's and 80's is the latest trend in book and magazine cover design for 2022 like it always comes back in songs, fashion, music, films etc. Fun typography used in covers are great hit like goodbye vitamin and sex and rage which seems to heavily inspired from 70's. Then usage of neon colour, bold fonts, designs all makes us remember the golden period of 70s and 80s. People always love to feel nostalgic, hence, this one is a great hit in 2022.
Millennial pink will be the most demanding colour in 2022 for book cover design. The past researches indicate the extensive usage of millennial or muted pink in book designing. This muted pink is said to be in trend due to its acceptance by wider audiences. It's more mature youthful and pleasant in every way. A colour with can attract so many kind of people got to be the favourite of the authors. Covers with pink is often paired with hand drawn fonts to keep it mature and not too girly.
Collage puts all together
Another interesting trend to look for in 2022 is collage covers. These collage covers wheather made in digital format or in the old fashioned way are extremely versatile and works for all genre., themes and ideas. They are mixed with colours, fonts, images which make them extremely attractive. People may easily pick the book by going on its cover which was lying in a book shelf due this collage cover.
Photo covers were available earlier as well but that time availability of customized pictures was expensive and stock images were too generic. In 2022, due to high end cameras in smartphones this problem of customized pictures is over! Now ,high definition, pictures are available with designers which has opened a new door of possibilities in the cover designing sector. 2022 is expected to bring visually rich cover designs which can show raw emotions and give glimpses of the book. In short nothing would beat an authentic photograph cover in 2022.
There was a time when people felt that internet has taken the place of books. But it has not happened yet! People are still reading book but the intention and designing of books has varied to attract the attention of the readers not just by content but with looks as well. If you are preparing to release your book in 2022, keep these design trends in mind.
(Visited 58 times, 1 visits today)