Consumer Psychology: A key element in Logo Designing
Are you a brand owner, having an independent identity, storefront, website, and digital presence? Then you must be concerned about the perception that audiences have towards your brand. Developing a positive and engaging perspective is important for any brand. Such can help in interacting with the audiences and retain them in the marketplace.
A key element helping brands to communicate their interests and to be aligned with a brand is their corporate logo design. However, to achieve the defined goal it is important to focus on customer psychology before logo designing. But in the process, a key question arises, what do you mean by customer psychology in logo designing?
What is Psychology in Logo Designing? 
A brand logo is comprised of several key elements including logo design, color, & pattern. Such elements collectively form a logo and are required to complement each other. Failing would result in a dissatisfactory impact on the audience and brand retention. Hence, while designing a brand logo, a professional logo designer studies the customer's perception and needs.
It helps to identify the key pain points of the consumers and to develop a brand logo that can develop trust among the consumers. The trust must be towards ensuring that the brand's product/service will eliminate their issues. You can consider the example of Ford Motors, a simple logo associated with the brand's focus on being tough. It ensures eliminating customer concerns about car safety, build quality, and other additional features. 
Prominent Factors to be considered in defining Brand Psychology
It is important to consider the colors used in corporate logo design and creation. Every color has its associated meaning and representation, which must be considered. Hence, during logo designing it is important for you to consider the color that can reflect your associated brand meaning. Also, colors can be identified to be the key factor that attracts the customer's attention at first sight.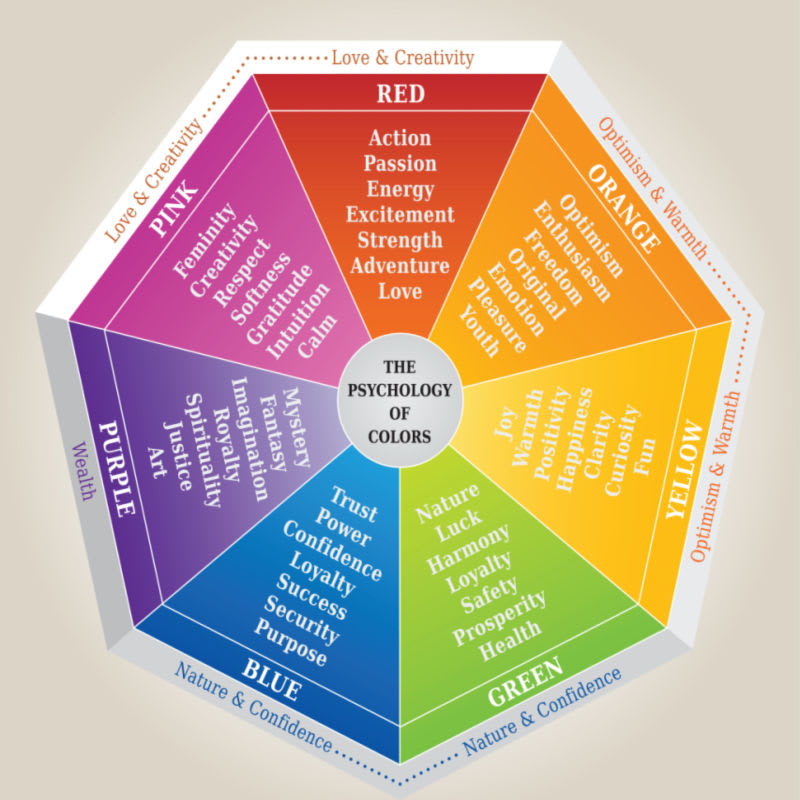 Source Link:
The brand logo's shape or pattern can also be identified to have a significant impact on customer psychology. Hence, depending on your brand's vision, goals, and values, appropriate patterns are adopted by an experienced logo designer. For example, a brand having a minimalistic logo aims to reflect on their easy to approach nature and transparency. On the other hand, brands focusing on creativity and innovation, also have unique logo designs.
Psychology of Words/Typography: 
The choices of the word put in the brand's logo and the typography adopted significantly impacts the customer psychology and perception towards the brand. For example, prominent brands such as Google and Netflix make use of Sans serif fonts in their corporate logo design. Such fonts are clean and reflect easy-to-access nature. However, it is not important to include words or typography in every logo. Some brands keep it simple with the help of a basic icon such as Apple Inc.
Psychology of Composition:
Apart from the mentioned aspects, it can be reflected that logo designers also focus on the effective composition of these elements. A complementary color scheme, shape, and typography must be adopted. Finally, along with reflecting on the brand's vision, the logo must also be visually appealing. An effectively complied brand logo helps to attract the audience's attention and to develop a position in the marketplace. 
Significant benefits of following Customer Psychology
Working on customer psychology also helps to establish positive relations with consumers. Through brand logos, they can reflect on their purposes and vision, which can further help to connect with the potential audiences in the industry. For instance, you may have observed that brands oriented towards eco-friendly means having a green logo. Such helps in attracting the audience group with such a mindset.  If such a brand adopts any different color pattern that does not align with its vision, then it might fail to connect with its customers.
Helps in getting social validation:
Developing a logo keeping in mind the customer psychology can help to get social validation. It has been observed that every brand has its central focus on a group of customers. Such a group can be targeted through a creative logo which further helps in getting social validation. Considering the previous example; it can be reflected that a brand with a green logo, can get a social validation for being eco-friendly. Starbucks is a prominent example of such a psychological corporate logo design. It reflects its social and environmental perspective through the logo.
End Notes
Verve Branding is a leading logo design company providing custom-made corporate logo design as per your brand's needs. You can access our services and can connect with our logo designer from anywhere. Our design team ensures the creation of the most appropriate and suitable logo as per your need. We have also been recognized as the best logo design company in Houston. So hurry up and get your custom-made brand logo today.
(Visited 13 times, 1 visits today)