Logo Designing: How To Create An Effective Real Estate Logo For Your Business?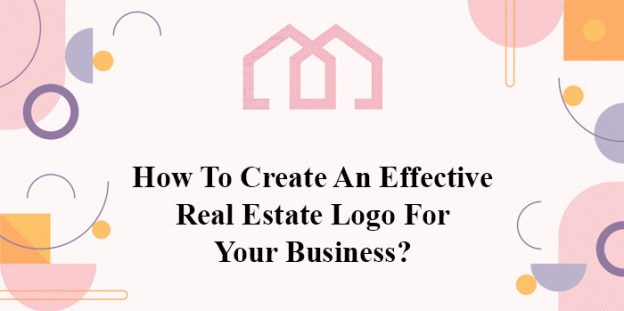 A logo has a lot to offer to any industry. It acts as a central idea about your brand or business, hence, it should be designed in a way that replicates your brand needs. A strong and well-designed logo can prove to be an asset for a brand.
In order to create a unique and memorable logo design, it is important that the brand idea personality should be clear to the designer.
Mainly your real estate brand logo requires a thorough knowledge of three areas:
Your brand's personality:  how do you want your customers to perceive your brand? What kind of value you can provide to the audience? Are you technically sound, simple, trustworthy or fun or exclusive? All this and much more information is needed to understand the personality of the brand for creating a logo.
Unique appeal: what value your real estate brand can provide which cannot be achieved by any other brand. Do you have a specific area of speciality? What do you focus on real estate industry?
Your audience: ones the key area is established, it is easy to identify your audience, identify the targeted audience, income state, age group etc.
What should you consider while designing the logo for the real estate industry?
Once all the necessary information is collected, it is time to implement it in the form of a logo. It is important to incorporate these unique features to make the logo design the replication of the brand identity.
Best real estate logos are seen as very minimalistically designed, they are either simple icons or the name of the company. If the intention of the owner is to bring awareness and recognition of the brand in the real estate industry then resorting to simplicity will only work. Using the name of the company as a logo design make people easily recognize the brand and connect to it.
Unique elements that reflect brand personality 
Knowing the essence of the brand can provide immense help in making a logo. It helps in deciding about the colour, font, size etc.
Designers from Calendar design services point out that each element used in the logo designing process for brands or for that matter in any form of design should be relevant to the brand targeted. If these elements are not kept in sync with the brand goal, it can mess up the whole personality of the brand making people confused.
If all the elements of the logo complement the brand identity, it will be a great way to communicate a unique story to the audience.
Design while keeping the audience in mind
Not only does your brand's identity that matter, but it is also the perspective of the audience that makes it easy for people to interact with the brand. Design a logo that fits well with the expectations of the users and easily conveys what your brand can offer to them.
Avoid using cliche images and symbols
We commonly see construction logos generally have common effective logo design tips in the form of the house roof, building structure, homes etc. These designs are outdated now to bring a spark to your real estate business.
Consult designers to get unique logo designs that can be generated with a unique pattern of designs. Things like geometrical shapes, and the origami-style symbol can bring a break in the usual patterns, making your logo look attractive to people.
Experiment with typography
Using typography in logo design is very trendy these days. Using unique typography can work well. You can go ahead in using abbreviations or the initial business names to create unique real estate logos. Make sure to keep the design simple and readable without making it over-the-top creative which can even backfire the whole process.
Usually, real estate logos are seen as limited with colour but there are no norms for using colours for real estate logo designing. Unless the brand owners do not have a specific colour in mind, experimentation with the colour can be done in logos.
Colours like blue, grey, rust or brown, black, gold, and silver are mainly used to make the logo look professional. Giving a little contrast of colours with these existing colour palates, may enhance the look of your logo and make it unique.
It is your step to think differently and find a pile of options than just some standalone logos. The logo designer should have that art to articulate different many forms from a single. In the real estate niche, the industry is serving homes and buildings mainly.
As a designer, your art is to think upon countless options. Just like trees, fences, locks and pillars. It is the versatility of graphic designers to unlock different options for their clients.
Conclusion
The logo is visibly the first interaction of the brand with its customers. As it is said that the first impression is always the last impression, a unique logo can attract customers in the first stance. A unique logo design has some rules that will be able to communicate with the customers easily, bringing a better conversion ratio.
VerveBranding can be your one-stop solution for branding and designing because we have market experience and a team of experts who, over the years, have worked on many major and minor projects for all types of industries. We provide designing and branding services at the most affordable price. For services related to mobile app development or web development and online marketing services, check out our subsidiaries, VerveLogic and VerveOnlineMarketing.
(Visited 119 times, 1 visits today)