5 Important Considerations for Pharma Logo Design and Branding Elements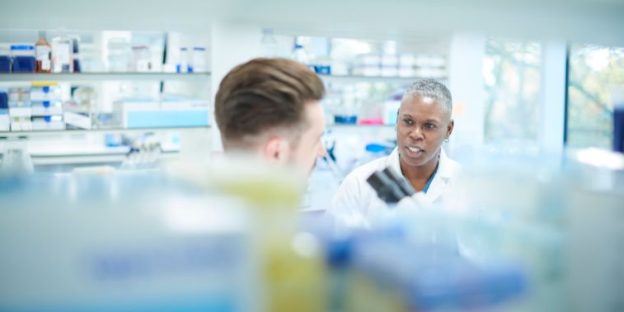 We all know that the pharma industry is very serious and necessary especially after Covid, it has been stated more effectively. The industry and the organizations require to make a clear, simple yet meaningful image of the brand so that consumers can understand the message behind it. This is why some considerations should be followed while designing a pharma logo.
Healthcare/Pharma Logo
Pharma or Healthcare is a complex field to brand because it has several products which have special substances. These substances are not known to a layperson, which is why it is not possible to include complex detailing in logo design and branding. So, how should a Pharmaceutical logo design be? Broadly, a pharmaceutical company logo should provide a strong message about the health and well-being of the people. Apart from that, it should be simple and soothing so that people do not feel stressed by looking at it.
Recent Statistics Of Indian Pharmaceutical Companies
According to statistics, almost 50% of the global demand for vaccines is fulfilled by India. This is why Indian pharmaceuticals have an export turnover of almost 20 billion US$. The upcoming 5 years will enhance this business by up to 12%. Apart from this the possibility of India becoming one of the top 10 counties in terms of medical expenditures. Now, let us find out what points a pharma company logo designer should consider while designing.
Considerations of Pharma Logo Design
1. Story Telling– 

A brand logo design should be distinctive means should tell about the motive of your motive. If a logo is not capable enough to tell your brand story then consumers and retailers will not get attracted. Every brand has a unique story so your logo can make you outshine your competitors. A pharmaceutical logo should be clean and easily shrunk and enlarged in size without affecting picture quality.
2. Clean– 

The image should be clean and simple. Because a clear and simple image can deliver the strong message as expected. The main issue with logo designers is that they make logos so complex by adding so many elements that it looks complex and stressful. This is why people do not consider the brand and go to the competitor's site.
3. Minimalistic Icons– 

The clear and simple design also includes the use of minimal icons in the logo. If you can complete the ideation in one icon then why two? This makes a brand different and out of the box from others. The objective of minimalistic design is to provide a clear vision of the company.
4. Colors– 

The color of every logo matters the most. If the color is not going with the idea of the company then there is no advantage to making it. The colors chosen should be soothing and should complement each other. A color scheme or combination is preferred for the logo design but the single color should also be suitable according to the idea. Generally, logo designers avoid contrast because it cannot be guaranteed to be liked by everyone.
5. Fonts– 

Fonts and styles of writing in a logo should be understandable and also very attractive. Because if people do not get what they are looking at then there is no point. Also, font size should be more overpowering than color, there should be a balance because if they are not in balance then the logo will look unprofessional.
Considerations of Branding Elements
1. Identity of Brand-

The brand logo is the most important thing for the brand because it is the face of the business. The representation should be correct otherwise visitors can misunderstand or not like the brand. For a customer, a logo is the only way to see a business at first. So it should be great.
2. Packaging Design-

While designing packaging for a pharma product it is necessary to understand that packaging should be a combination of creativity and information. This means that it should reflect the substances and their amount, method to take, and many more. With this information, the design should be classic and simple.
3. Marketing Collateral-

The marketing team should have all the details and information regarding the market so that a better strategy can be made. The main objective of marketing is to launch and introduce the product in the market and also improve brand identity. Marketing strategies can work effectively on the system and provide great results.
4. Campaigns-

The campaigns are run to make sure that information that has been conveyed through the product reaches everywhere authentically. The purpose of having a marketing campaign is to implement marketing strategies so that a strong base can be built for products by the pharma company. A marketing campaign is generally for a particular product.
5. Social Media-

Social media is the most important platform because it has the power to circulate a piece of information very fast. The better social media marketing of a company can make it trending for the unique ideas and content then the organization gets the benefit in terms of traffic on site, and convertible leads. Social media is the best platform for promoting a business and in a pharmaceutical firm, it is even more important to spread correct and authenticated information.
Importance of Branding In The Pharma Industry
These considerations of branding elements are very essential to support a brand image and make the value of a brand in the market. This is very necessary to consider all these facts before designing a brand logo for a pharma company. Following are some points to explain the importance of branding in the pharma industry-
For delivering the message correctly to the targeted audience
In retaining old customers
For a strong and distinct brand image
For genuine traffic and customers in the awareness area
Increased humanized interaction and brand value
Innovative Pharma Logos Designed By Vervebranding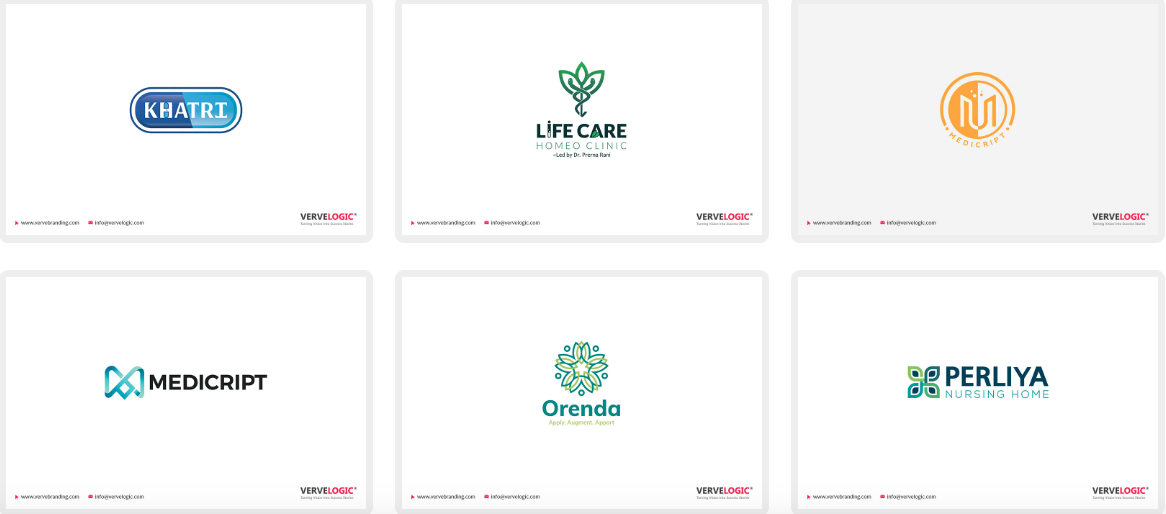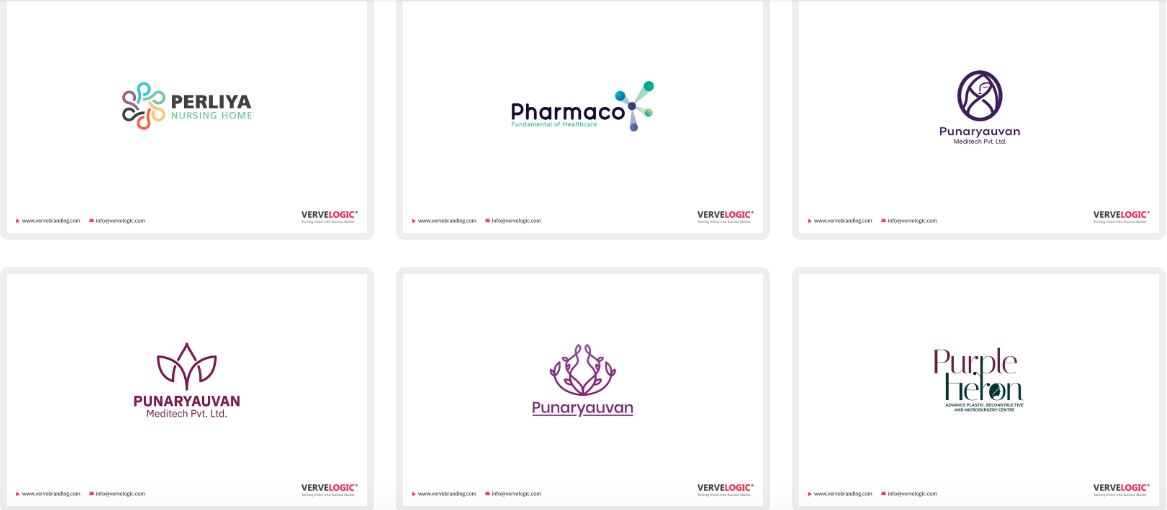 Conclusion- Important Considerations for Pharma Logo Design
At the end of this blog, it can be said that logo design for a pharmaceutical brand is tricky but after considering all these factors or considerations it can become a little easier for designers to make a logo and make it shine. At VerveBranding we understand your concerns as a pharma company so we do consider all these considerations while designing a logo for you. We provide the best logo design services and client satisfaction so that you can focus on business development. To know more about us and our services please check out www.vervebranding.com
(Visited 11 times, 1 visits today)