Unique Tips For Designing That Every Designer Should Know
Do you love making logo sketches? Looking to design an original logo yourself for your business? If your answer is yes, then you probably looking to learn to make the best logo designs. Well, logo designs need a wide range of skills and techniques.
Graphic design is considered one of the essential factors that must be known by every designer. In this blog post, we have gathered unique tips for the best logo design in India that make sure to learn you the basics that every designer should know.
If you are heading towards your first logo design, then considering them will surely help you to achieve an effective and professional logo. Let's have a look:
Step #1. Know your inspiration
You can't achieve something which is unique or creative unless you have an inspiration in mind. If you are inspired to develop an attractive design, you'll definitely get a great design. Know the history of your company, the basic principles, and goals, and create your logos around those aspects.
Just check out: 10+ Powerful Tips for Effective Logo Design in 2023
Step #2. Be creative while designing your logo
If you want to create something new and fresh, you must follow your own creative process that works best for you. This could include offering the design in three to four formats and types to the client so that he can later determine what should be done first.
Step #3. Understand your target audience
Be it logo design or Template Design Services, you won't accomplish your goals unless you don't identify your audience. Every project and business is unique and you need to make different efforts that reflect that business effectively. It is important to know your target audience and also, that with every new project, your audience will be different. Understand their needs and ask clearly what's important to them when it comes to representing their values to the audience.
Step #4. Create a versatile design
When you design a logo, you must consider all the possible mediums where your client can place your logo design, once you deliver it to them. Remember, logo design is not something that will appear online only. In fact, a logo can be displayed offline as well. Therefore it is important to create a versatile design. Other such designs include letterhead, business cards, websites, products, packaging, banner, poster, flyers, T-shirts, and much more.
For more on t-shirts design ideas: Top 15 T-Shirt Design Ideas; Brands Need To Know 
Step #5. Choosing a great font is important
The font is one of the most important factors to consider while creating a logo design. Experts suggest that you should take as much time in deciding the font of your logo as much time you take to create the logo. Your logo marks an impression not only on your audience or potential customers but also on your clients.
It is best if you consult with your client before selecting the font.
Step #6. Narrate a story and leave a message
The logo is the first thing that people notice about your brand. Even if you are creating a logo for your client, displaying it on your website will offer more benefits to you. Because the logo you provide to your client will represent the quality of services you offer. The best way is to create a story around your logo. Your story will make your people believe what your company is about and what are the goals you always strive to achieve that set you apart from your competitors. Better communication between the company and the customer is essential to achieve all the goals.
Additional tips To Remember When You Are All Set To Design Your Company's Logo
Step #7. Be you… Be imaginative!
The most important quality of a great logo design is, it always strives to provide the customer with a unique and creative design that makes their brand and business stand out in the crowd. Originality is an important factor because it reflects the image of the business.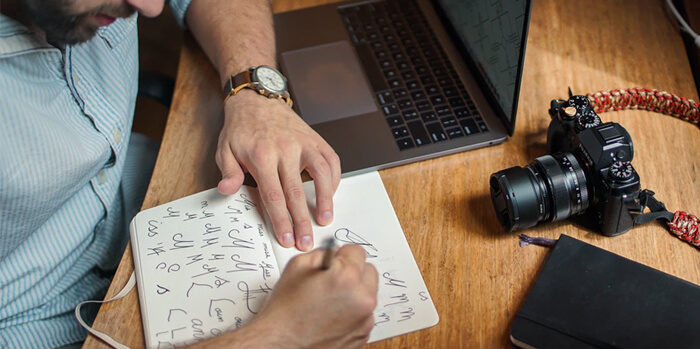 Step #8. Balance in your designing
Try to practice different techniques, styles, and ingredients to simulate your branding with the need. For your reference, there are multiple resources that can motivate you. Places like Dribble, Behance, and Awwwards, are best for learners for their designing practices.
You can take their references and enhance your pro skills.
Step #9. Swing with the market demands
You are designing a logo for someone who needs perfection from you. That is what you are known for. Right? Curate the right mixture of design elements in your logo design that articulate the right purpose behind it. Today, we have seen everywhere there is much competition and rush. If your design cant matches the vibe and can't swing, then it is of no use.
In pharma logo designing, you need a clear design concept. Here you must read 5 Important Considerations for Pharma Logo Design and Branding Elements
Always take care of this unique tip for designing.
Conclusion
Whether you are planning to hire the best logo design company in India or looking to design a logo all by yourself, these are a few of the tips that every designer should know. Create a design that your customer will love!
VerveOnlineMarketing is a digital marketing agency; we have delivered our services of PPC, SEO, and SMO to several of our happy clients. The best part of our dedicated team you would like is providing effective digital marketing services to our dozens of clients. We have years of experience to deliver you the outstanding digital marketing services you deserve. Moreover, we have a single-window solution. Where we deliver the benefits of logo designing and branding services- connect with us on VerveBranding. And for web and app development services, you can connect with us on VerveLogic.
What are the strategies that you keep for designing logos? Share your views and best tips with us in our comment section below!
(Visited 97 times, 1 visits today)