World's Most Recognizable Logos And Their Story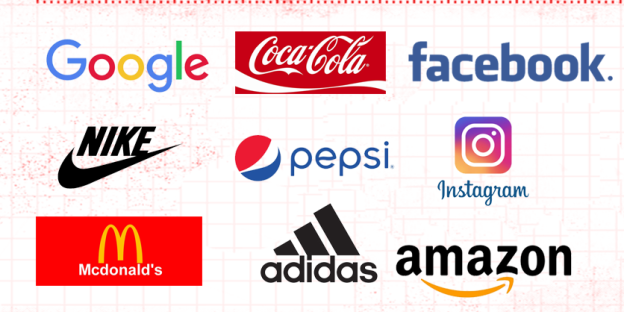 What are some of the best logo design inspirations? Should you hire a logo design company? Who can help me with the best logo design? How does a logo design communicate its target audience? Where can you visit for logo design inspirations to design a logo for your company? Do logo designers help you with logo design trademarking? These all are common questions we have found from different companies' owners. We have covered all such issues that will help you with the best inspirations to design a logo for your company.
A company's identity is very crucial in today's competitive market. Every brand, or famous company, uses logos for successful branding. That's why logo design companies are always intact, as they can help companies establish their visual identity.
But it's not like you can use any logo to represent your business, and you need the experts, as the company's visual identity can either break or do your business. Brand identity works remarkable in favor of companies as it enhances how the company works and performs, influences customer choice, creates loyalty and helps build brand value.
If you have also decided to build a brand identity, you need a logo to start the proceedings.
As stated by the logo design company, authenticity is essential in designing as it helps you establish your business and have a unique standpoint in the market. Today, we've selected the top ten most famous brands of the world to dive into the past and the logo's development to discover the reasons for what led to their success.
McDonald's
McDonald's is the nation's top fast-food chain founded in 1940 as a single restaurant. In the years since those golden arches that makeup McDonald's "M" became synonymous with the notion of a convenient meal. The angles have evolved into much more, a symbol of the culture of fast food in general and America in a certain way.
Since its beginning, the brand has undergone some changes, but they have stuck to the same design for many years. The iconic arches were based on one of the first restaurant designs, with separate golden arches shaped like an "M" hung over the structure.
Pepsi
Before Pepsi, There were drinks called Brad's. A pharmacist who invented it from North Carolina, Caleb Bradham, introduced this remedy to the market in 1893, a couple of years after the launch of Coca-Cola and a couple of decades before the time that Dr. Pepper emerged. Five years later, Brad's Drink was transformed into Pepsi-Cola, which comes from an alternative word for digestion, "dyspepsia".
Pepsi is one of the brands that has escaped the rules of what constitutes a classic and well-known brand that is consistent. Through the decades that Pepsi has been around, it has seen twelve major logo overhauls, smaller products, and variations in flavor. Despite all these modifications, Pepsi has promised one thing: satisfaction. Their white, red, and blue colors have made for a clean and pleasing aesthetic to the eye—logo by incorporating carefully designed curvatures and circles. The creative director of Twitter said that the interlocking rings referred to possible networks, interests, and ideas created by being interspersed and connected between peers and acquaintances. The current logo, approved by the golden ratio, remains recognizable, regardless of its ever-changing design.
Coca-cola
It was the beginning of spring in 1886, and Atlanta pharmacist John Stith Pemberton produced a syrup that would revolutionize the world. The situation quickly escalated after the community in Atlanta gave rave reviews. The bookkeeper at Pemberton's office, Frank M Robinson, came up with the idea of Coca-Cola and suggested that the two C's appear well in advertisements. Robinson wrote the company's script by experimenting with an intricate Spencerian script and adding a dramatic style to the brand name that he provided.
The white and red color scheme we are familiar with and have assimilated into our culture is more than the traditional characteristics. Red symbolizes excitement, power, and energy. The color itself can trigger an impulse purchase, and there have been conducted in the past to show that players who have red chips are more likely to bet than those who have blue chips. The ebullient white and broad cursive text evokes a long-gone feeling and a burning desire for nostalgia. The colors are in sync with the outfit worn by Santa Claus, who has recently become a Coca-Cola mascot that ties more traditions to Coca-cola's iconic brand.
Now, fast forward to the present, and Coca-cola ranks as the world's largest beverage producer and distributor and is one of the giant corporations worldwide. 1.9 billion servings of Coca-Cola are sold every day worldwide compared to just 25 bottles in the first year. Since its trademark was officially taken effect in 1887, There have been just small changes that make Coca-Cola an excellent brand for the world. This brand is based on traditionality and stability.
Nike
Nike is the most significant and most valuable brand in fashion around the globe, with its iconic swoosh becoming among the top famous brands in existence to this day. The logo was initially created in 1971 by a fellow student from Phil Knight, one of the founders of Nike. Carolyn Davidson, the designer Carolyn Davidson was paid $35. Knight said, "I do not like it, but it'll develop upon me."
Davidson was inspired by the Greek goddess of victory, Nike, modeling the logo on her wings. Greek folklore tells of how the goddess Nike inspired numerous brave warriors to defend their homeland. It is said that the wings of the goddess Nike are believed to have brought inspiration and courage to warriors who were heading for battle. Nike's designers needed to communicate the idea of motion and distinguish themselves from their competitor, Adidas. And that idea separates them from the others.
Nike's logo utilizes the white space surrounding it in the same way that the curve creates movement. You can almost feel and hear the form. The simplicity of the logo signifies quickness and agility. It can also appear suitable on all of Nike's products, bringing out the logo in every way it can.
Adidas
The company was founded and is located in Herzogenaurach, Germany; Adidas has been a symbol of the highest quality and endurance. Adidas has created minimalist corporate logo designs, and the trademark of three stripes has become the ultimate Adidas symbol.
Adidas acquired the trademark three-stripe from a Finnish label in the early 1950s. The iconography was designed by the founder of the company Adi Dassler. Dassler first introduced the marks on the brand's footwear in 1949 when Dassler was particularly interested in creating an emblem that was immediately identifiable during sporting events. While it's a simple design, it became so infamously linked to the label that Dassler even named his company "the three-stripe corporation."
To provide some background information about the design, It's clear that the stripes are the form of mountains. This is intended to encourage and push people to achieve their maximum potential.
Google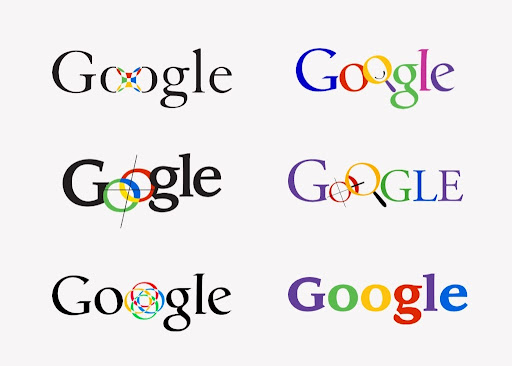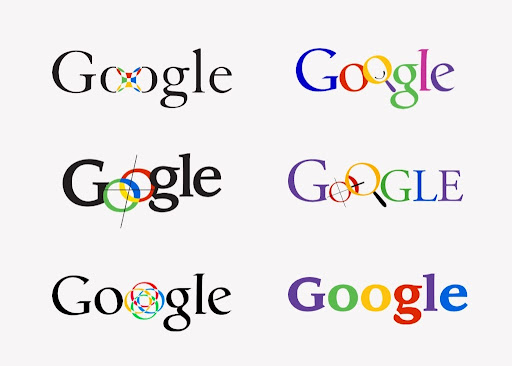 Google, the world's biggest internet company, has one of the most intriguing latter-mark logos. Everybody is aware of the power of Google, and it is safe to say that it is among the most recognized brands in the world. However, in the initial stages, Google used to have two logos. In 1996, the Google logo featured an image of a hand, yes you read that right, and the company's original name (BackRub) was written on the palm in red font. They had their most significant rebranding within the next two years, and we can say the best decision they took. The member launched a much more straightforward, realistic, and intriguing logo which exclaimed "Google" in a multi-color hue.
When Sergeant Brin and Larry Page were looking for an artist and designer for a new logo, then graphic designer Ruth Kedar was also asked to present her creativity, and she was the one who came up with the multi-color Google's first logo.
However, Google's logo is always in discussion for its imperfections. A UK designer known as Will Patterson gracefully explains why the logo is optically perfect despite its geometric and mathematical flaws.
Facebook
As you already know that Facebook was founded by Mark Zuckerberg and his fellow friends when they all were at Harvard University. Since it started as a small and local website in a college student's dorm room, nobody knew that Facebook would be one of the social media giants in the upcoming days.
When Facebook started to create a buzz all around, Mark Zuckerberg and Sean Parker hired Mike Buzzard of the Cuban Council to create a new logo for the company. Facebook's logo is still inspired by the logo created by Mike Buzard as the company has had only minor changes to the design in all these years.
Zuckerburg specifically asked about the blue color scheme of Facebook's logo as he suffers from a form of color blindness known as deuteranopia. If you do not know, a person suffering from deuteranopia can easily distinguish blue from other colors.
Facebook's logo is the perfect example of simplicity yet elegance, along with a straightforward design that quickly impacts the user because of its white lowercase font and blue background. Even though the color scheme follows the idea of Zuckerberg, it is still able to make its impact. Facebook's blue and white latter mark logo has taken its place and made it one of the world's biggest brands, just like Nike and Adidas.
Twitter
Let us talk about social media giant Twitter. The creative director of Twitter, Doug Bowman, once said that "Twitter is the bird, the bird is the Twitter "as they make sure to use birds in their logo and branding. Twitter was officially launched on July 15, 2006, and even before that, Twitter was using Tweet and the bird for branding. Then the founders hired Swedish graphic designer Linda Gavin to create their first official logo, and she didn't disappoint as her ideas became the first official identity of the company.
Just like Facebook, Twitter's branding has been intact since 2010, with some minor changes from time to time. However, this new idea came from Martin Grasser's brain (Martin Grasser is an artist based in the Bay Area. His work explores systems, language, translation, multiples, and beauty). The current logo is based on a hummingbird, with its illustration based on fifteen circles.
According to Graser, circles symbolize the idea that Twitter democratizes info and gives every account its voice to convey a neutral visual. Twitter founders and creative heads call this change the "ultimate representation of freedom, hope, and limitless possibilities." The logo helps them communicate how simplification can be a sign of success.
Instagram
Another popular social media platform, Instagram, has used its logo for marketing and branding purposes, and it is successful to all extents. This photo-sharing platform has had massive international growth, and once Facebook bought it in 2012, the popularity of Instagram rose to a new level. Within a year, it became one of the most active social media platforms in existence today.
Over the years, we have seen different logos representing Instagram, but all these years, one typical thing was the shape of an instant camera. It justifies the fact that it's the most designated platform for sharing your photographs with people from all over the globe.
Instagram's original logo was designed by Systrom way back in 2010, and it was a rebate of a polaroid camera image. But the latest changes in the logo give it a minimalistic design illustration. The new change has caused an uproar from their existing community, but memorability and recognizability are still there.
Instagram's new logo offers a visual saliency very attractive, and that's why it gets more attention. It also has the power of curves, just like Facebook, and it works in their favor because people generally prefer curvaceous designs over more angular ones. Along with these two features, the new logo also has perfect propositional density because of which it offers high processing fluency. The new Instagram design still depicts a camera but does so far more straightforwardly than the old design.
Amazon
The E-Commerce giant Amazon has also established itself all over the years with new marketing methods and its effective logo. Amazon's current logo consists of an arrow pointing from A to Z. It's perfect since they are in e-commerce, cloud computing, artificial intelligence, and digital streaming. Because of this reason, Amazon is on the list of the "Big Four" right next to Google, Apple, and Facebook.
It's believed that Jeff Bezos himself hired Turner Duckworth to create the Amazon logo. The logo we see today with the yellow line was developed in 1998, illustrating they sell everything from "A to Z".
We said that Amazon is the eCommerce giant because they also believe the same. The black color in the Amazon logo represents dominance, elegance, and supremacy. And even if we consider that arrow a smirk, we believe that it's a good smirk, and it's not at all condescending. It's a smirk that everyone likes, and they wanted to tell you, 'We Know Who We Are.' That's the elegance of this logo, and that's why experts from logo design companies love Amazon's logo so much.
Endnotes
These are some of the biggest brands in the world and their most recognizable logos. There's a story behind these logos, and now that you know, you might understand what you need to do with your business logo and make it a brand.
We believe that unique businesses like yours need a unique identity. You build your business's unique identity with the experienced logo-designing company and with their expertise. You do not have to worry at all to have the best logo design and branding services for your company.
VerveBranding can be your one-stop solution for branding and designing because we have decades of market experience and a team of experts who, over the years, have worked on many major and minor projects for all types of industries. We provide designing and branding services at the most affordable price. For services related to mobile app development or web development and online marketing services, check out our subsidiaries, VerveLogic and VerveOnlineMarketing.
(Visited 1,415 times, 1 visits today)